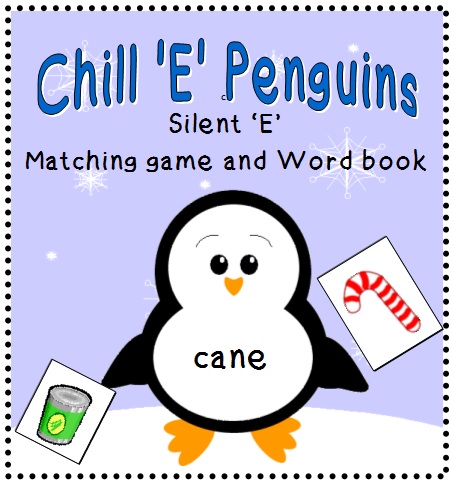 As you may know I homeschool my children. My daughter is in 1st grade and we have been working on reading with fluency and understanding. Her skills are developing nicely, but words with the silent 'e' ending still trip her up sometimes. There are MANY worksheets that claim to practice this skill but frankly I don't really like worksheets, so I set out with a plan to develop a game to help my daughter practice identify and read words with the silent 'e' ending.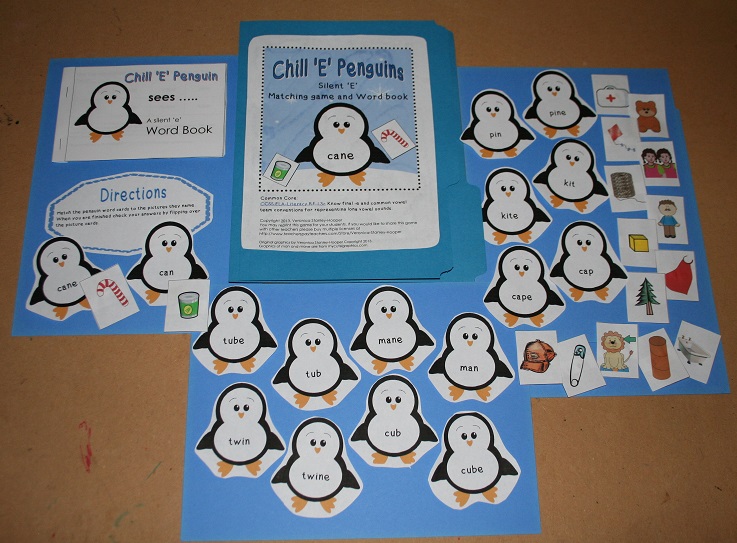 The Chill 'E' Penguins Silent 'E' Matching Game and Word Book helps your students practice matching words that have silent 'e' endings and their partner words that do not have the silent 'e' (such as 'cap' and 'cape') with pictures. This 34 piece colorful set is designed for your student to practice matching the words on the penguins with the correct pictures. Some words are=> pin, pine, can, cane, cap, cape => plus a lot more! The game is self-correcting. Directions card, teacher notes for instruction and assembly are included.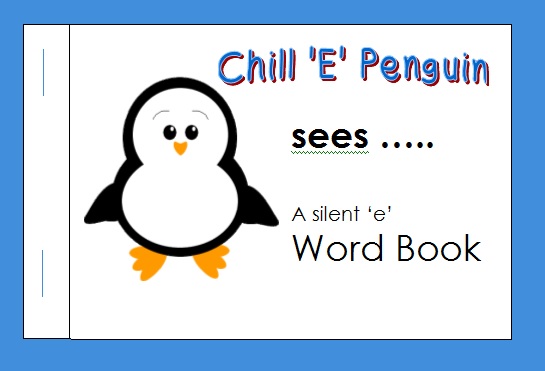 The companion word book is colorful, cute and the perfect way for your students to practice reading sentences and using picture clues to determine the missing word. Then your student writes the missing word on the line. All of the missing words end in silent 'e' and are a part of the matching game. A handy word bank on the first page of the book helps your student to spell the missing word correctly.
The Chill 'E' Penguins Silent 'E' Matching Game and Word Book covers common core standard CCSS.ELA-Literacy.RF.1.3c Know final -e and common vowel team conventions for representing long vowel sounds. The game is perfect for individual or small group play or you can use it in your literacy learning center. The word book is great for independent practice or for use in small instructional groups.
My daughter LOVES to play the game and I have set it up using a pocket chart in our homeschool classroom. You can check it out here http://www.teacherspayteachers.com/Product/Chill-E-Penguins-A-Silent-E-Matching-Game-and-Word-Book-Set-984072 on my Teachers Pay Teachers store!
.
---