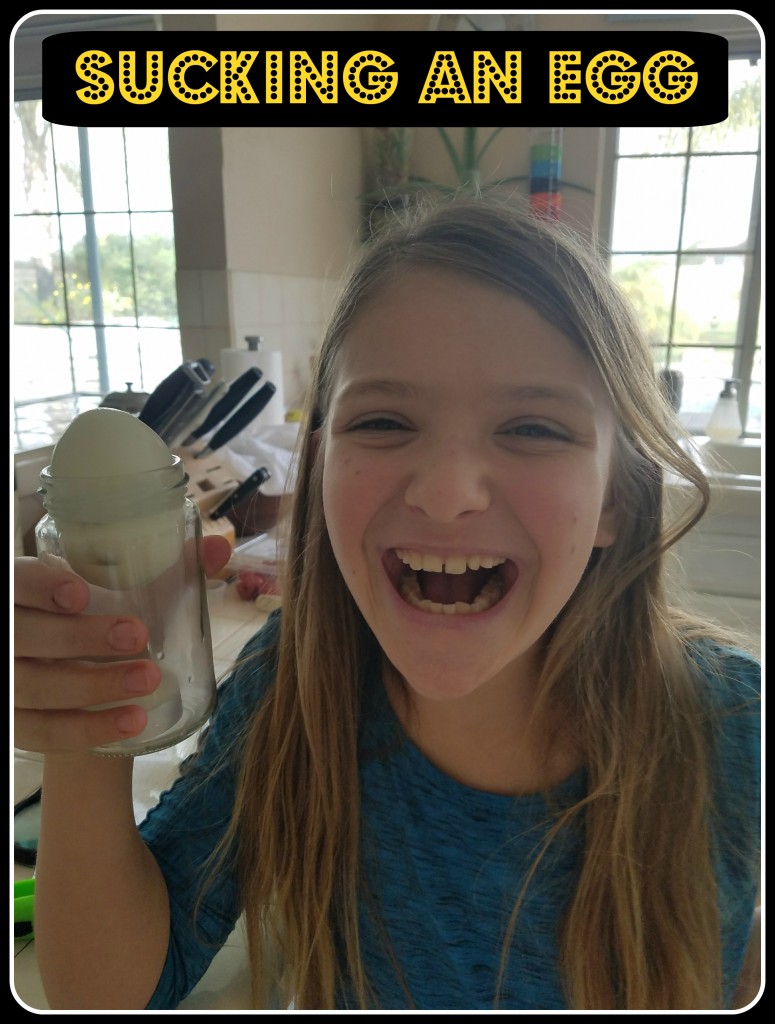 Yes, we are going to suck and egg–> inside of a bottle! If you have been reading our other Egg-cellent Egg posts — Rubber Egg and Egg Drop of Doom — you have seen that hard boiled eggs are a great science tools.
This egg-speriment involves air pressure and heat. When air is heated it expands rapidly, this is the reason a hot air balloon rises. When air is cooled it takes up less space, the reason why the lid of a hot jar gets sucked in a bit when the jar cools on the counter. We are going to use this concept to suck an egg into a bottle.
What you need:
1 Hard boiled egg
1 bottle (We used an old olive jar, but Starbucks frappuchino bottles work too. The mouth needs to be just a bit smaller than the diameter of the hard boiled egg.)
Matches or a candle flame lighter
Vegetable oil (if desired to make the opening of the jar more slick– we did not do this.)
1 tea light candle or strips of paper (we used the tea light candle.)
What you do:
First you peel your hard boiled egg. If you are using oil, now is the time to oil the mouth of the jar. We didn't do this step. Next you carefully place the tea light at the bottom of your jar. (If you are burning strips of paper instead, you will light the paper and carefully drop the burning paper inside of the jar ***Warning: Fire burns, if you are a child ask a parent to help.*** Finally, quickly place your egg on the mouth of your jar and observe the egg getting sucked into the jar.

What is Happening:
When the candle is lit it causes the air in the jar to warm up and expand. When you place the egg on the mouth of the jar it creates a seal that prevents the expanding air inside the jar from escaping. The flame needs oxygen to burn and once the oxygen inside the jar is depleted the flame extinguishes. The air inside the jar begins to cool and contract creating a vacuum inside the jar. The egg gets sucked into the jar by the vacuum.
Here's a video that I found on YouTube done by Home Science Tools.
I hope you have as much fun doing these Egg-cellent Egg Experiments as we did. Let me know what you discovered in the comments!