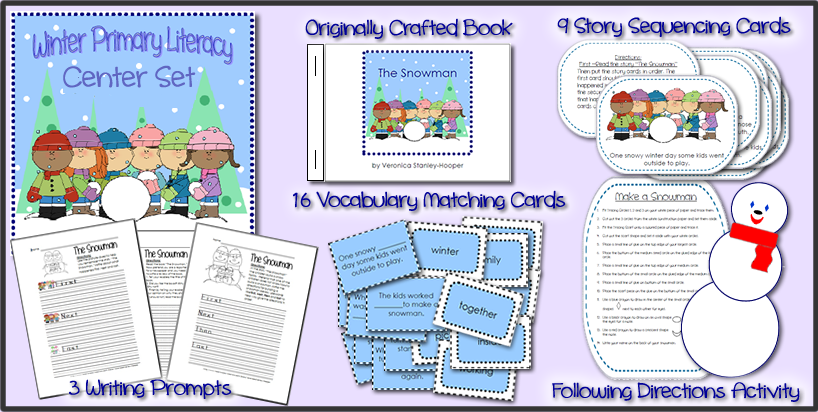 I love themed learning centers. With all of the snow that most of the nation is getting right now it is hard NOT to do a learning set that isn't winter themed. So I created my Complete Primary Winter Literacy Center Set to offer 7 activities, games, and lessons for primary learners to explore language within a fun, colorful snow theme.
This set includes:
**The Snowman – an original story written by Veronica Stanley-Hooper
**3 Writing Prompts
**9 Story Sequencing Cards for "The Snowman" book
**16 Vocabulary matching cards
**1 Build a Snowman Following Directions Activity – 4 Tracing pieces and Directions Card
For a total of 30 pieces of literacy learning for center work or small groups!
All of the games are self-correcting and PERFECT for independent learning too!
Covers Common Core Standards:
CCSS.ELA-Literacy.W.1.1
CCSS.ELA-Literacy.W.1.2
CCSS.ELA-Literacy.W.1.3
CCSS.ELA-Literacy.L.1.4
CCSS.ELA-Literacy.L.1.4a
CCSS.ELA-Literacy.RL.1.2
CCSS.ELA-Literacy.RL.2.7
CCSS.ELA-Literacy.RL.3.7
AND
Key Concepts:
• To follow written directions in order to assemble a complete piece
of work.
This set is great for First, Second, or Third graders. You can find it on my Teachers Pay Teachers Store : http://www.teacherspayteachers.com/Product/Complete-Primary-Winter-Literacy-Center-Set-7-Language-Arts-Lessons-1051019