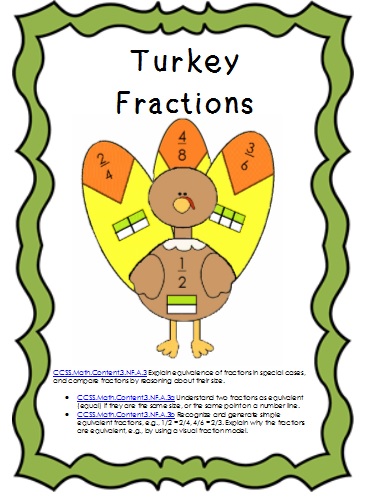 I asked my son,"What kind of game would you like for our Thanksgiving Math Center?" He said, "I want a fractions game!" My son is in 3rd grade and fractions are coming up as part of the core curriculum (3.NF.A.3, 3.NF.A.3a, 3.NF.A.3b), so I decided this was a good opportunity to start the learning!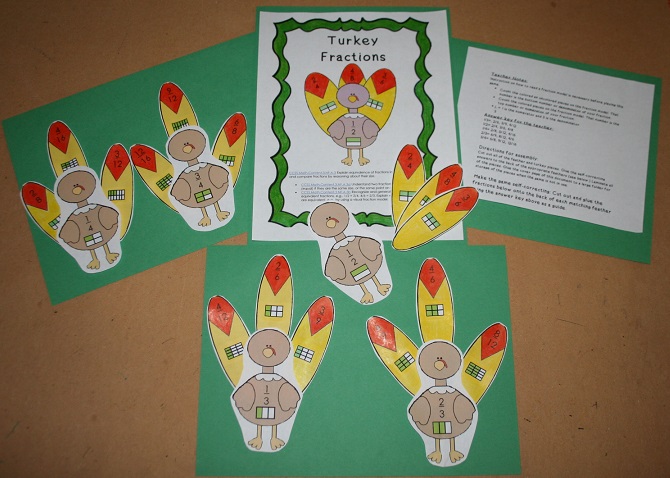 This colorful matching game has 20 matching turkey and feather pieces. The student reads the fraction that is on the turkey and looks at the fraction model picture. Then he finds the feather pieces that have equivalent fractions and matches them to the turkey. The set comes with teacher notes, self-correcting answers for all of the feather pieces, and an answer key.
My son loves playing this game so much that he has interested his sister (first grade) in learning more about fractions. She plays the game with assistance from either her brother or myself! I love it when games make learning more exciting and they don't even realize they are learning! Here's the link to the product on Teachers Pay Teachers http://www.teacherspayteachers.com/Product/Fractions-Turkey-Equivalent-Fractions-Matching-Game-976963.