At our house we have been trying VERY hard to avoid prepackaged and fast food items. Sometimes the pressure of peers and advertising can be overwhelming to kiddos (and adults too!) I really feel the pressure when we are just driving around and the kids are hungry. "Can we have Subway?" or "Wow, that burger looks good, Mom. Can we stop?"
I can only say, "NO!" so many times before I start to feel like I am the bad guy—never letting my kids have that food. So we have made some compromises AND this is not the kind of food that your mom said, "It's going to taste just like McDonalds—and it never did." My kids actually ask for this food and can recognize how McDonald's food is inferior!
Mommy's Big Sandwich (Instead of Subway)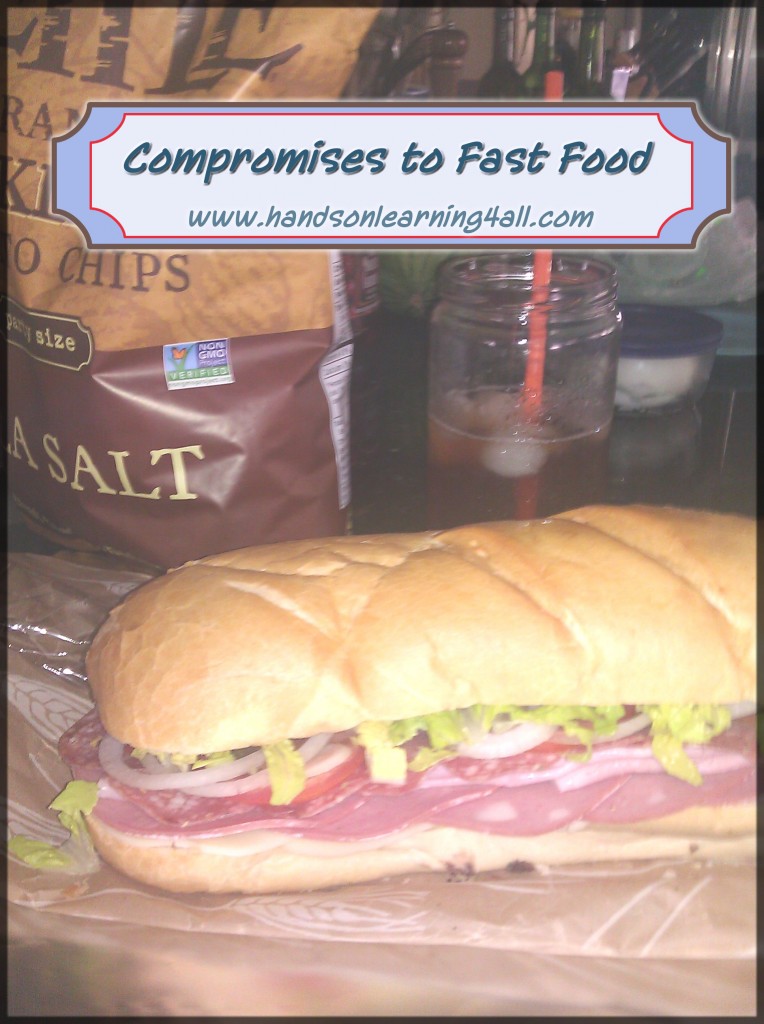 This sandwich is a family favorite for picnics, games, or just a weekend lunch. No GMO's in the chips are a BIG plus and I only use no nitrate meats! Sometimes I even make my homemade ciabatta bread for this big sandie. But when I am not feeling creative I just go to the bakery isle of the market and choose a bread that has yeast as one of it's ingredients. (I also make sure I can read the rest of the ingredients!) The entire sandwich takes about 10 minutes to make AND it is our compromise to Subway sandwiches. I bet you can tell why this is our new family favorite instead of Subway!
Mommy's Big Sandwich
| | |
| --- | --- |
| Serves | 4-6 |
| Prep time | 10 minutes |
| Allergy | Milk, Wheat |
| Meal type | Main Dish |
| Misc | Child Friendly |
| Occasion | Barbecue, Birthday Party, Casual Party |
Ingredients
4oz Sopressata (or other salami of your choice)
4oz Mortadella (or other balongna of your choice)
4oz Black Forest Ham
6-8 Slices--Provolone
3-4 leaves Romaine Lettuce (Chopped)
1 Large Tomato (Sliced)
1 Small Onion (Thinly sliced)
1 teaspoon Dried Oregano
1 teaspoon Dried Basil
Olive Oil
Balsamic Vinegar
salt
pepper
Optional
Directions
| | |
| --- | --- |
| 1. | Slice the bread in 1/2 (If it isn't already sliced.) |
| 2. | Drizzle olive oil and balsmic vinegar on both halves. |
| 3. | Sprinkle both halves with oregano, basil, salt and pepper. (If your meat is salty go easy on the salt.) |
| 4. | Place sliced provolone along the length of the bread first. Then place the meats on top of the cheese. |
| 5. | Finally top with tomato, lettuce, onions and avocado. |
| 6. | Place the top of the bread on the sandwich and wrap the entire sandwich in plastic or foil tightly for 20 min. before serving. (Wrapping the sandwich helps the flavors come together and the sandwich stays together better when bitten into.) |
Burgers–Fast Food Style at home!
The two biggest complaints from kids when talking about homemade burgers is that the buns are not the same and the burgers are too thick and chewy. I have got solutions to both problems and your kids are going to LOVE these burgers more than McDonalds or any other fast food burger! Guaranteed!
Soft Hamburger Buns
Soft Hamburger Buns
| | |
| --- | --- |
| Serves | 8 |
| Prep time | 5 minutes |
| Cook time | 1 hour |
| Total time | 1 hours, 5 minutes |
| Allergy | Wheat |
| Meal type | Bread, Lunch, Main Dish |
| Misc | Child Friendly, Freezable |
| Occasion | Barbecue, Birthday Party, Casual Party |
Ingredients
2+ tablespoons Butter (Soft --you will need additional butter to brush the tops of the warm buns.)
3/4 cups Warm Water
1/4 cup Milk
3 cups Flour (All purpose)
3 tablespoons Honey
1 teaspoon Salt
1 1/2 teaspoon Yeast
Olive Oil (enough to grease the baking pan)
Directions
| | |
| --- | --- |
| 1. | Mix all of the ingredients in your bread machine or kitchen aid until the dough is smooth and pliable. |
| 2. | Roll the dough into a log and cut into 8 equal pieces. |
| 3. | Form each piece of dough into a ball shape and place on an upside down cookie sheet that has been oiled with olive oil. |
| 4. | Allow dough balls to rise to at least double their original size. (approx. 30-40 min.) |
| 5. | Bake rolls at 350F for 17-20minutes or until golden brown. Immediately brush the tops with melted butter after removing the buns from the oven. (The butter keeps them soft.) Allow buns to cool before cutting. (I usually cover them loosely with a clean, dry, thin, cotton dish towel.) |
Note
If you don't have a bread machine you can use your kitchen aid to mix the dough ingredients. I would not recommend kneading this dough by hand as it is very wet.
If you don't have a bread machine or kitchen aid OR you just don't want to make the buns, try using King's Hawaiian Rolls as a substitute. They have more ingredients in them and are low on my list of 'healthy' foods, but when compromising for fast food they are MUCH better than any thing in the drive thru.
Now we have to make the BEST, juicy kid friendly burgers you have ever tasted. You will never go back to store formed, pressed burgers again!
The Best, Juicy Hamburgers–>EVAH!
The Best, Juicy Hamburgers EVAH!
| | |
| --- | --- |
| Serves | 4-6 |
| Prep time | 10 minutes |
| Cook time | 20 minutes |
| Total time | 30 minutes |
| Meal type | Lunch, Main Dish |
| Misc | Child Friendly |
Ingredients
1lb Ground Beef (I use grass fed. Better taste and better nutrition!)
4 tablespoons Ketchup
2 tablespoons Yellow Mustard
1/4 cup Mayonaise (REAL mayonaise...don't use that fake stuff.)
Salt
Pepper
Directions
| | |
| --- | --- |
| 1. | Mix all ingredients together well. (I use my hands.) |
| 2. | You are going to press your burgers with two round plates that are inverted. (Bottoms together.) Pull off a handful of your ground beef mixture and form it into a ball. Put it in the center of the bottom plate. Place the center (bottom) of the second plate on the top of your ground beef ball. Firmly and evenly press the top plate down to form your burger. You want your burger thin and slightly concave. |
| 3. | Your burger will be very soft and will need to be firmed up by cooking it in a pan first on both sides BEFORE placing it on the grill. Refrain from pressing down on it while it is in the pan. (I just cook mine until done in the pan and then move all of the burgers to a baking sheet to be placed in a 170F oven until being served.) |
You can top your burgers with cheese, lettuce, tomato, bacon (my personal favorite) or anything you like. My brother-in-law likes his with a nice egg over-easy and cheese. Any way you like your burgers I am sure your kiddos will be asking for more of these.
I hope that you will find these recipes a great substitute for fast food for your family too!