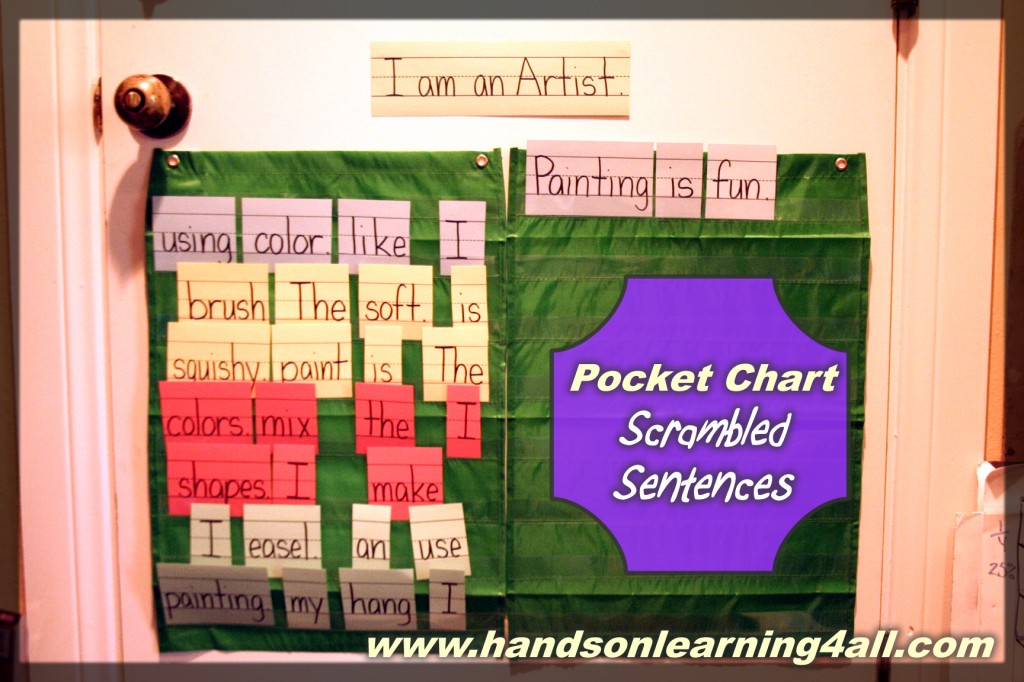 This game is so easy to make. I found the mini-pocket charts at Target in the dollar bins! But you can buy them here from Amazon==> Mini-Pocket Chart Link. I bought the sentence strip paper at my local school supply store but you can buy it here from Amazon==>Sentence Strip Paper.
Next you just make up a story that is eight sentences long. Here's an example:
I am an Artist
Painting is fun.
I like using color.
The brush is soft.
The paint is squishy.
I mix the colors.
I make shapes.
I use an easel.
I hang my painting.
Just print the words for the sentences on the sentence strips and cut them out. The pocket chart on the left is for the mixed up sentence. The pocket chart on the right is for the correctly arranged sentence. One of the great things about this game is that it is self correcting. If the sentence makes sense and the story sounds correct the player has achieved the correct answer!
A new scrambled sentence game can be used for each theme or change of season. One game but it can be used all year with a new story each time! I use this as a center activity when I need to get some one on one time with my kiddos. Older kids can even make up a story for this game. The possibilities are endless!