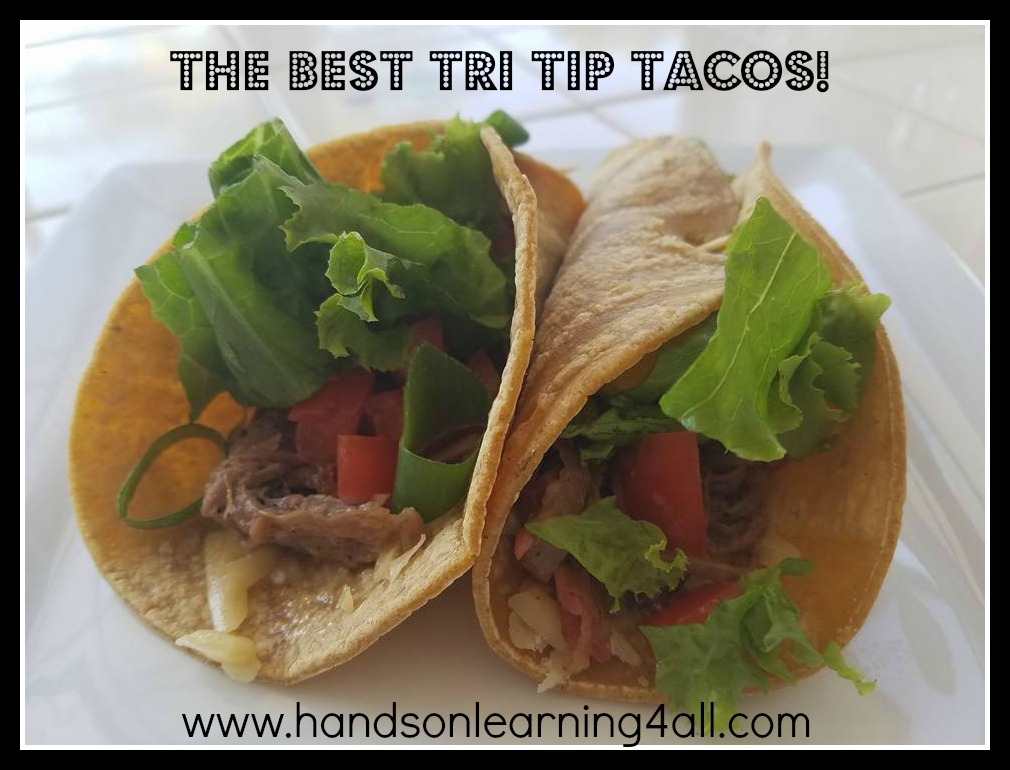 Here's an easy recipe that Dad will love for father's day dinner! Tri Tip Tacos! Get this ready in the morning and you will have plenty of time to play with Dad all day! When you are hungry and ready to eat dinner you can pull the meat out of the crockpot with the onions and shred it all up for the tacos. I like to serve this up with diced tomatoes, chopped cilantro, and shredded cheese on top of corn or flour tortillas. With only a few ingredients, a grill and a slow cooker even the kiddos can put this one together. (A parent will have to help with the grill.)
First I dusted the tri tip with salt, pepper, onion powder and garlic powder. Then I put it on my VERY hot grill (about 450F) for about 10 min. per side. While the tri tip was on the grill I sliced up the onions and put them into the slow cooker with 1/2 cup of chicken broth and 2 tbs of hot pepper jelly.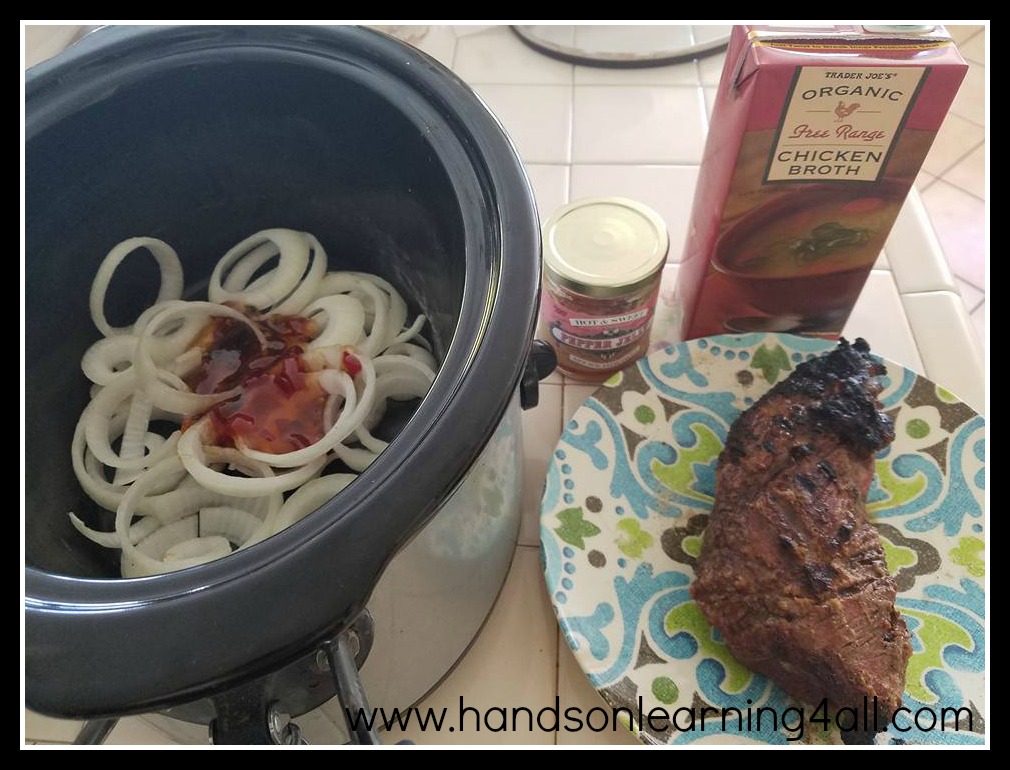 Next I put the tri tip on top of the onions, broth and jelly, put on the lid and set it to cook on low for 4 hours.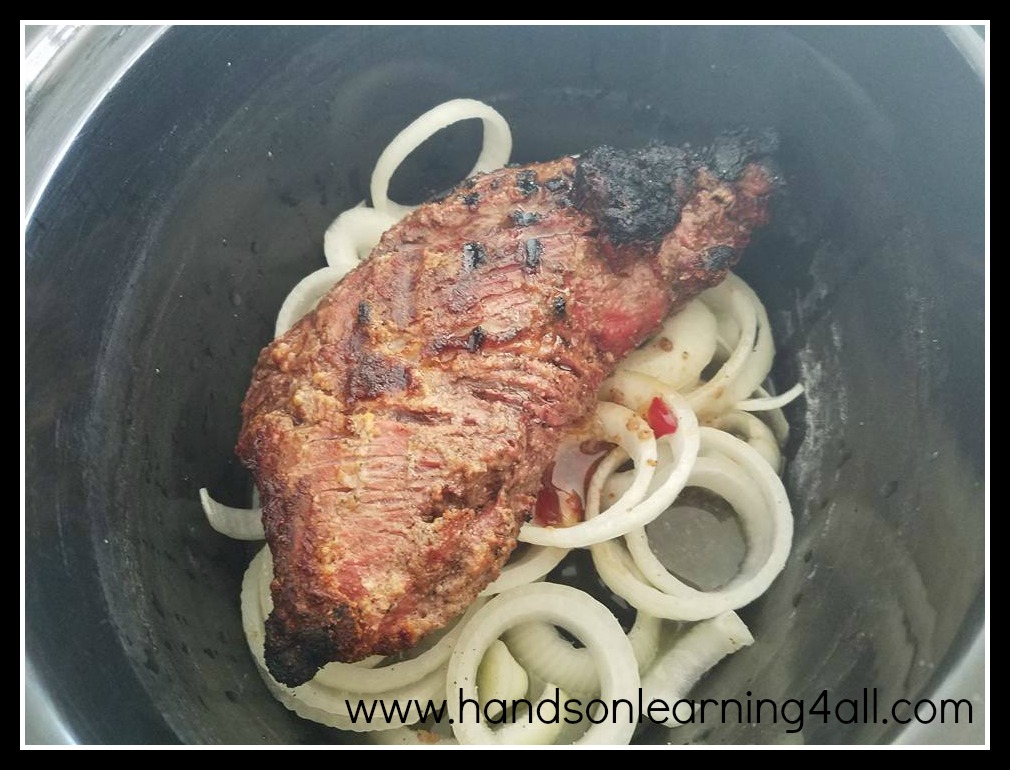 After 4 hours I shredded the tri tip with two forks and turned my slow cooker to warm while I prepared diced tomatoes, slice green onions, shredded cheddar cheese, and chopped lettuce. I also warmed some corn tortillas on the grill.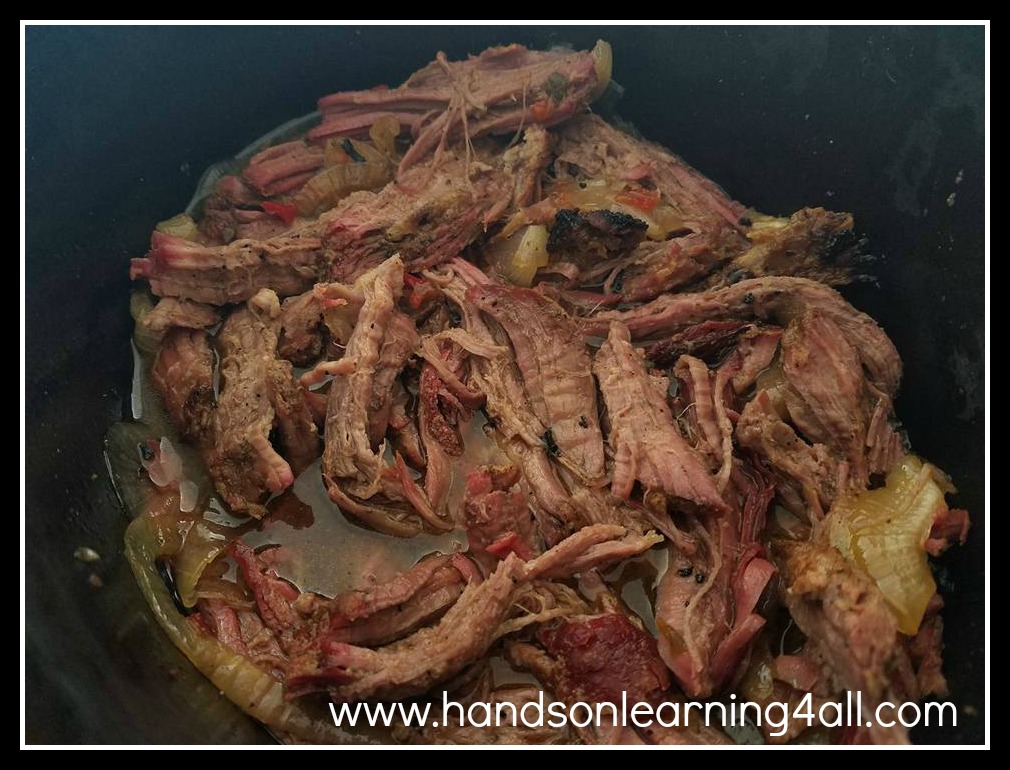 When we were ready to eat we fixed up our tacos with the toppings and ate. This was the easiest 'fancy' meal to prepare because the slow cooker did all of the work. There was only about 20 min. of prep and cooking time outside of the slow cooker doing all of the 'hard work' for 4 hours. I used a 2 lbs. Tri Tip and this was a lot of meat. This recipe will make from 8-12 tacos at least depending on how much meat you put inside of each one.
The best part of this meal is that it is so easy and low maintenance everyone can have a great day with Dad AND still have a great family friendly Father's Day Dinner prepared when everyone is hungry! I hope you enjoy this recipe as much as my family does!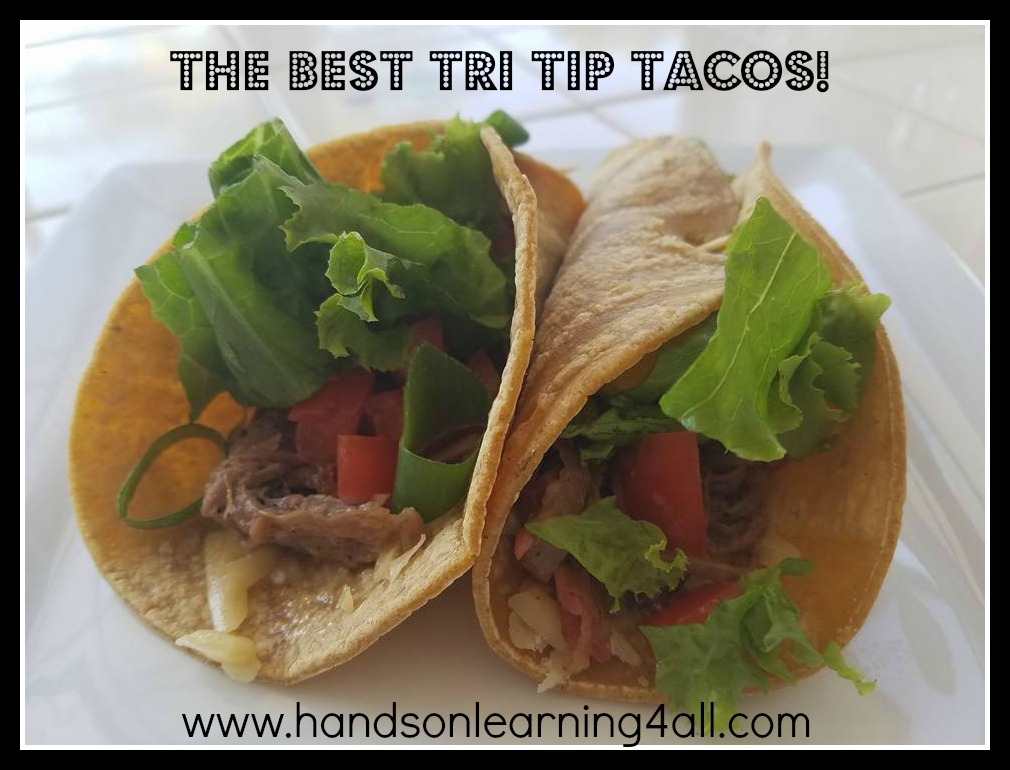 Tri Tip Tacos
Print recipe
Ingredients
2lb Tri Tip Beef
2 tablespoons Hot Pepper Jelly
1/2 cup Chicken Broth
Shredded Cheese
Chopped Lettuce
Diced Green Onions
Chopped Cilantro
Diced Tomato
Garlic Powder
Onion Powder
Salt
Pepper
1 Medium Yellow or Brown Onion
Directions
| | |
| --- | --- |
| 1. | Heavily dust tri tip with onion powder, garlic powder, salt and pepper. |
| 2. | Grill tri tip on a VERY hot grill (about 450F) for 10 min. on each side or until nice grill marks appear. |
| 3. | While tri tip is grilling slice one medium onion into rings and place at the bottom of your slow cooker with 2 tbs of hot pepper jelly and 1/2 cup of chicken broth. |
| 4. | Place grilled tri tip on top of sliced onions, jelly and broth in the slow cooker and cook on low for 4-5 hours until the meat easily shreds with two forks. |
| 5. | Serve on corn or flour tortillas with diced tomatoes, green onions, chopped cilantro, shredded cheese, chopped lettuce and any other taco topping you like! |