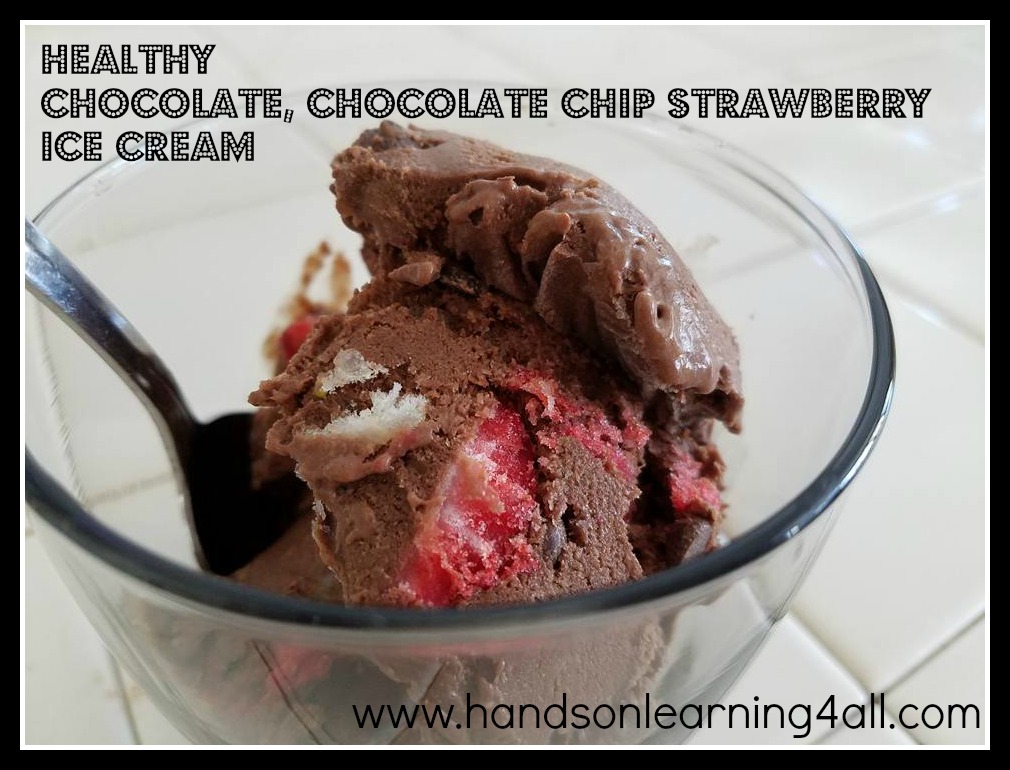 You don't need a fancy schmancy ice cream maker to make gourmet ice cream that tastes like the expensive stuff at the stores. This recipe is easy, fast and HEALTHY with no added sweeteners or chemical junk! Add whatever you like to the basic ice cream recipe or make it like we did with chocolate chips and strawberry slices. I bet your older children will love to make this one and invent all new flavors for the family to try! One thing is for sure your family and friends will love it!
Healthy Chocolate, Chocolate Chip Ice Cream
Print recipe
Ingredients
6 Medium Ripe Bananas (Cut into 1 inch pieces and frozen)
3 tablespoons Unsweetened Cocoa Powder (Organic if you can)
6-8 thin slices Fresh Strawberries (Organic if you can)
1/4 cup Cream (Organic if you can)
1/4 cup Mini Chocolate Chips (Organic if you can)
Directions
1.
Cut 6 ripe bananas into 1" circles and freeze. When frozen toss them into the food processor with 1/4 cup of cream and 3 tbs of unsweetened cocoa powder until smooth. Scoop out ice cream into a bowl. Cut 6-8 strawberries into slices and gently fold into the ice cream with 1/4 cup of mini chocolate chips! Eat immediately as soft serve or put into a glass container with a lid and freeze for hard ice cream.

(I press plastic wrap right down on top of the ice cream before I put on the lid to prevent freezer burn.)
No added sweeteners, no chemical junk, no ice cream maker necessary--> All goodness!