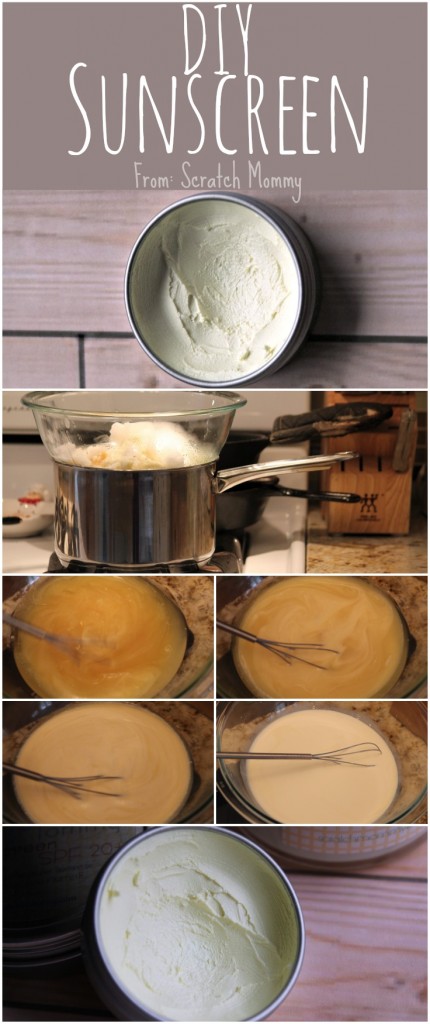 I have searched for the past few years for a sunscreen that is chemical free and works on my children. When we lived close to the ocean we rarely had days over 80F and could always find a nice spot in the shade to play. The only time we experienced long periods of intense sun was when we were at the beach, and I chose to go with a commercial 'all natural' sunscreen. Otherwise we just used our common sense and clothes to help prevent sun burn.
But just a few years ago we moved up to the 'high desert' and now we really get some intense sun and heat. My entire family LOVES to be outdoors and we are lucky enough to have a pool to get us through those dog days of summer here where the temps. can get to 115F. But this desert-like weather has put us in a situation where we really need a good sunscreen if we want to be outdoors.
So I went searching for a good sunscreen without the chemicals. Most of the choices I found were very hard to get out of the tube and even more difficult to rub onto a wriggling child. So I continued my search and I found this wonderful recipe by Scratch Mommy for DIY Sunscreen. With ingredients like beeswax, shea butter, coconut oil, zinc oxide, vitamin e, and almond oil, I knew I couldn't go wrong in meeting my criteria for an 'all natural' sunscreen. But now….will it work?
Remember my kids LOVE being in the sun. My son plays football and sweats in the desert heat. We ALL love to hike and bike….and we have a pool. We have put this sunscreen to the test AND I am pleased to say that it WORKS!!!
I put the sunscreen on all three of my children. I have one 12yo, one 9yo (with sensitive skin), and one 7yo. We biked, hiked, and swam all weekend long. Morning, noon and evening we tested this sunscreen out and it has held up to the test. It is easy to apply–> smooth, creamy and it spreads very easily onto the skin! It cost just under $17 to make 8oz, which is a bargain in my book because when I order all natural sunscreen from Amazon I am paying that much for the product WITHOUT shipping. A little goes a LONG way. (I doubt that we will use all 8oz this summer.) It rubs in and is almost invisible. My husband said that if I didn't tell him I put sunscreen on the kids he wouldn't have been able to tell.
****BONUS***** This recipe is SUPER FLEXIBLE–> see confession below.
Here's my confession: I am not very good at following directions AND this recipe worked anyway! I didn't use the scale or the double boiler (I googled the equivalent weights for ounces) and I microwaved the beeswax and shea butter in 45sec increments. I grated the beeswax with a mini grater to help with smooth melting. I had a bit of zinc oxide left over about .5oz and I decided to throw it in anyway and added just a bit more carrier oil… AND this sunscreen STILL worked!
Here is a list of links to the ingredients so that you can see what you are looking for when you buy.
Zinc Oxide
(Don't want to pay the shipping? Ask Scratch Mommy to ship you by emailing to scratchmommy@scratchmommy.com with the subject heading of… Zinc Oxide, Please …and she will ship some your way. She charges $3 per ounce. Shipping (in the USA) is $3 up to 5 ounces and $5 for any amount over that.)
Shea Butter
Bees Wax
Almond Oil (I used this kind, but you can also use olive oil from your kitchen)
Coconut Oil
Vitamin E
(the links above are affiliate links)
****Are you saying to yourself, "Hey…I want some….BUT…I don't want to make it. How can I get it?" Well, Scratch Mommy does have a skin care products store where she carries this sunscreen and a whole lot more.****
Just click HERE to go to Scratch Mommy's Skincare Store!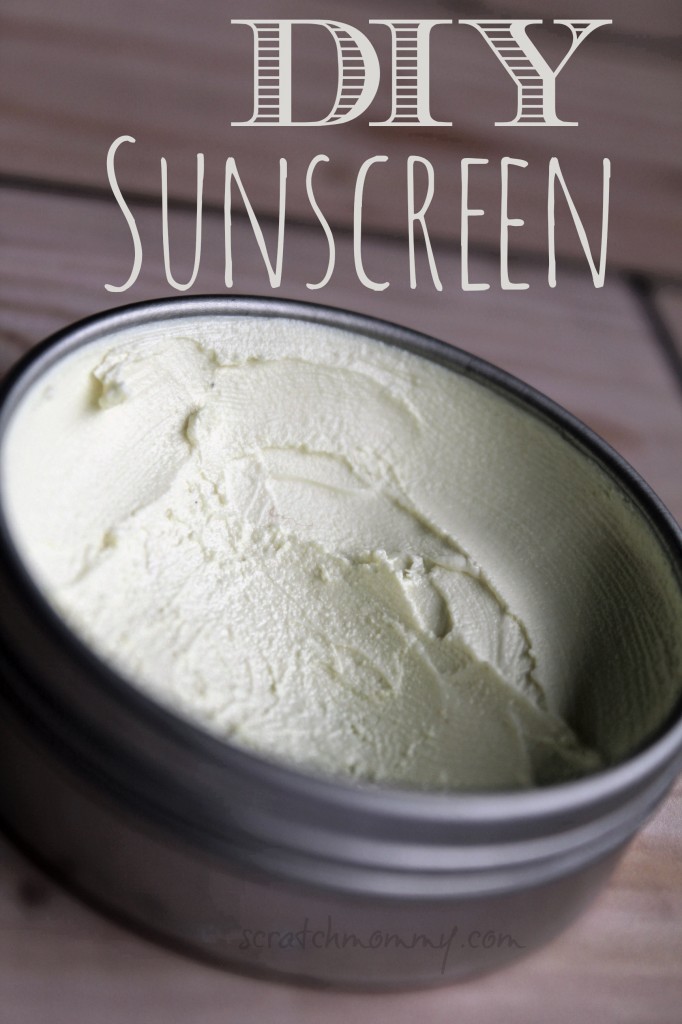 Here's a link to Scratch Mommy's Original post about this DIY sunscreen! http://www.scratchmommy.com/diy-sunscreen-easy-make-need-recipe/. You can go there to find the recipe and directions on how to make this DIY sunscreen.