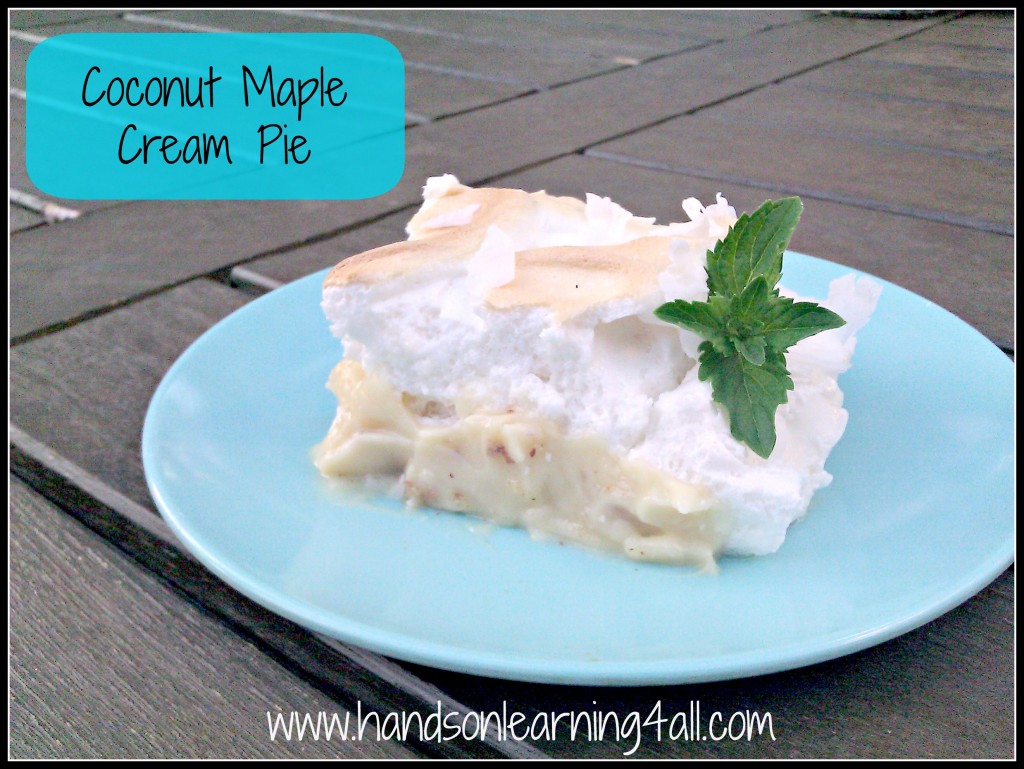 Yesterday I asked my daughter if she wanted to help me come up with a dessert for this week. We brainstormed with a can of coconut cream in mind. This is the dessert we came up with. The coconut cream custard is sweetened with maple syrup and my husband says he would just eat that alone for dessert. (Good to keep in mind!) It would also make a nice ice-cream too! Just put the cooled custard into your ice-cream maker for a icy cold sweet treat. The meringue has raw sugar in it but you could easily substitute it with a few drops of stevia and no one would know the difference or you could just substitute the meringue with fresh whipped cream sweetened with stevia. The crust of this coconut cream pie is almond meal and shredded coconut so no white flour here! It is just the creamy delicious dessert we were looking for! I hope you enjoy it too!
Coconut Maple Cream Pie
Print recipe
Ingredients
1 can Coconut Cream
1 cup Whole Milk
1/3 cup Corn Starch or Arrowroot Powder
1/2 cup Maple Syrup
4 Eggs (separated yolks for the custard, whites for the meringue)
1/3 cup Butter (melted)
1 cup Almond (Meal)
2 cups Shredded Coconut (I used 1 cup of fine shredded for the crust and 1 cup of wide sliced coconut for the garnish on top)
1/2 cup Raw Sugar
1/4 teaspoon Cream of Tartar (optional--it just makes the meringue more stable)
Directions
| | |
| --- | --- |
| 1. | Whisk together eggs, milk, coconut cream, cornstarch (or arrowroot powder) and 4 egg yolks in a medium sized sauce pan. Stir constantly over medium heat until thick. Pour into a shallow bowl and press plastic wrap on the top. Place into the freezer for 30 minutes to cool. (Keep the egg whites in a small bowl on the counter as room temp. whites whip up faster to make meringue.) |
| 2. | While coconut custard is cooling mix together almond meal, 1 cup of shredded coconut and melted butter. Press this mixture onto the bottom of a 13x9 baking dish. Bake at 350F for 10 min. Cool in refrigerator while custard is cooling in the freezer. |
| 3. | While custard and crust are cooling whip the egg whites in a bowl with 1/4 tsp of cream of tarter. After soft peaks start to form slowly pour in sugar in intervals. When very stiff peaks form and all of the sugar is incorporated the meringue is ready. |
| 4. | Assemble the pie by first spooning/spreading the custard over the crust. (Careful not to disturb the crust.) Next spoon and spread the meringue over the custard. Dip and pull up on the spoon to make peaks. Turn your oven on broil and with the door open place the baking dish on the rack closest to the broiler. Do Not leave. Broil the meringue top until brown and remove pie from oven immediately. Sprinkle remaining shredded coconut on top. Cool in the refrigerator uncovered. |
Note
This dessert is best served the same day. The meringue will start to weep after a few hours of storage in the refrigerator this is normal.
***Whipped cream can be a substitute for the meringue. (Do not broil whipped cream.) Just refrigerate custard/crust until ready to serve. Cut pieces and top individual pieces with whipped cream. Top whipped cream with the shredded coconut garnish.