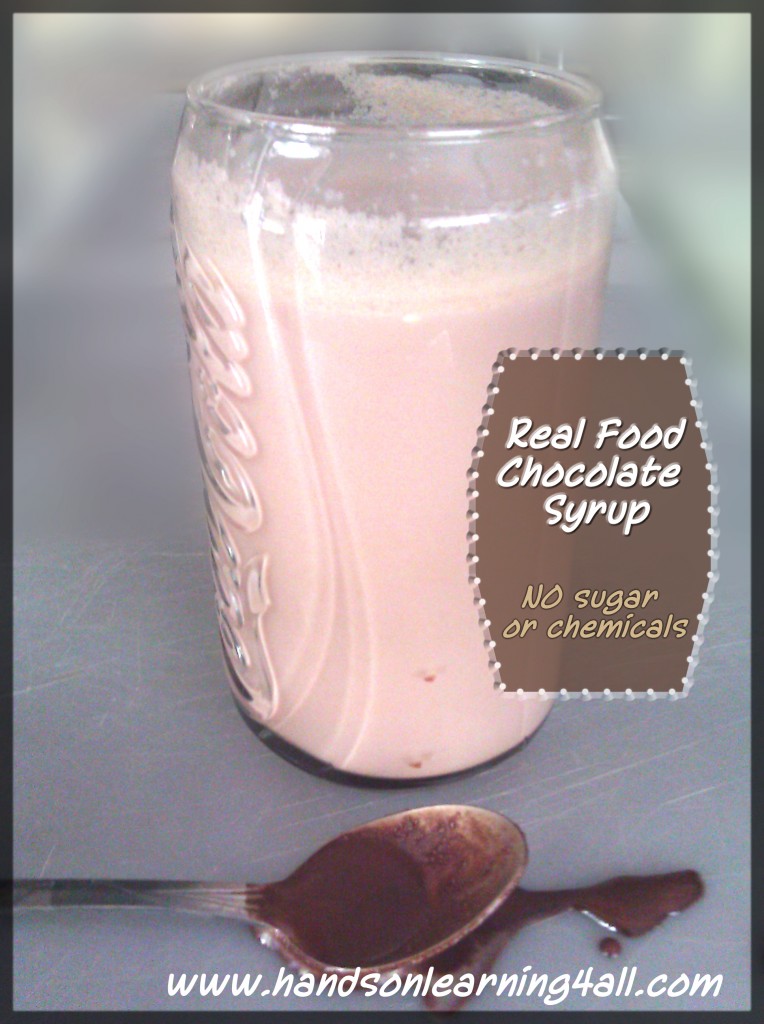 Do you LOVE chocolate milk? I do. But we haven't had it for a year as we challenge ourselves to eat a real food diet. Whelp…resistance is futile (Trekkie fans understand) and I felt the need to come up with a good recipe to satisfy my chocolate milk desires! My kids LOVED this recipe so much they thanked me with LOTS of kisses. I bet your kids will like it too! I plan to stir a little of this chocolaty goodness into my coffee tomorrow morning! Yummo! Best of all this recipe does not call for white sugar or corn syrup! You can substitute 1/2 tsp of almond extract– or peppermint– for1/2 of the vanilla extract to give you chocolate almond syrup or chocolate peppermint syrup! Enjoy!
Homemade Chocolate Syrup
Print recipe
| | |
| --- | --- |
| Serves | 8-16 |
| Prep time | 5 minutes |
| Meal type | Condiment |
| Misc | Child Friendly, Pre-preparable |
Ingredients
1/2 cup Unsweetened Cocoa Powder
1/3 cup Filtered Water
1/4 cup Maple Syrup
1 teaspoon Vanilla
Directions
| | |
| --- | --- |
| 1. | Mix all ingredients well until there are no lumps. Add additional maple syrup as necessary to make the chocolate syrup as sweet as you like it. You may need to add additional water if it is too thick. The syrup should be runny and smooth. |
Note
Add one or two teaspoons of chocolate syrup to milk and stir well to make chocolate milk or drizzle on icecream. Store the syrup in an airtight jar in the fridge.